Diagnostic Survival Tips from Parents
Sometimes your infant or child's paediatrician/specialist may refer them for one or more of the following diagnostic procedures:
Barium Study
pH Monitoring
Gastroscopy/ Endoscopy
Diagnosis of GORD is often made on symptoms alone, but these tests can be used to confirm GORD or other conditions, or the extent of the disease.
To help you and your little one 'survive' these procedures our parents have put together some tips that helped them to get through in the hope that they help you too!
---
pH Study
For the pH study your child may return home with the probe or may remain as a hospital in patient. The probe usually stays in place for a minimum of 24 hours.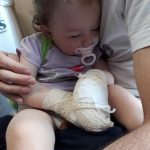 Be prepared that with younger children they may wrap their hands like boxing gloves to avoid them pulling out the probe so have some activities that don't use their hands- books, music, a cot mobile.
Button up clothes and Pyjama's so you don't have to pull clothes over the probe.
A little back pack for the pH monitor (some hospitals may provide this).
Ask that they put Manuka Honey strips under the probe on your LO face to avoid irritation from the tape. With my toddler I asked they tape the probe down his back so it was harder for him to access.
If not offered, request a play specialist to assist during insertion and removal of the probe.
With my 6 month old the baby carrier was a life saver and we did so many laps of the hospital to keep him entertained and so he would sleep.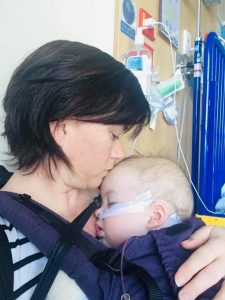 Sensory toys and aids are great as they can be calming e.g. fidget toys and weighted blankets.
A present bag (little cheap things) as prizes for when the probe was put in, and helping them keep it in. You could gift wrap the prizes as it occupies their hands a bit and even those with bandaged hands will need a break and hand stretches every couple of hours.
Show your child pictures of other children with the probe in to help normalise it for them.
Have their favourite cuddly thing with them.
If you are staying in the hospital ask if you can attend the hospital play room, it's a great help at passing the time.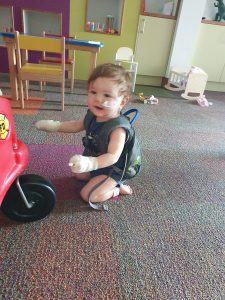 Bring lots of comfort foods etc. for the parent with the child. Its hard work watching our kids like this. Off their meds, uncomfortable, sore, angry, unsure. This is not a time to be on a strict diet (unless it's for allergies). Look after yourself though, eat good foods and comfort foods.
---
Barium Swallow Study
Take bibs or a change of clothes as it can be messy, especially with toddlers.
We find it best to bring bottles and cups they are familiar with from home. We also brought our own food as he has allergies. Also for toddlers it helps if they are a little hungry when they do this, which can be hard.
With an older child you can add something really yummy, we used Hershey's chocolate syrup to make the drink more palatable. My son was asked to drink it through a straw (aged 10).
Having a distraction like a teddy playing peek a boo did wonders for my son.
I've been through these with both my children. For us we found it most successful when they were not restrained, a stressed baby won't drink. For my daughter she was in her car seat, drinking from her bottle, and hungry. Flavoured strawberry. With my son he sat on my husband's knee and was distracted while my husband gave him his vanilla flavoured milk. So keep it familiar, keep it calm, keep them hungry. It's one of less intrusive procedures but from experience the success is dependent on the X-ray team and how they interact with your child as much as anything.
https://www.chp.edu/our-services/radiology/patient-procedures/modified-barium-swallow Follow link to see graphic.
The Canterbury District Health Board have created this informative video on radiographic procedures which you may also find useful: https://vimeo.com/69280666.
---
Gastroscopy/ Endoscopy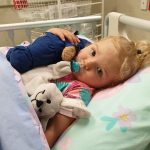 These procedures require a General Anaesthetic and patients are often discharged the same day but overnight monitoring may be required in some cases. 
Your baby or child will need to be nil by mouth for several hours prior to the procedure, (clear fluid may be allowed) so I gave him a milk feed before the nil by mouth period started even if that means waking him in the early hours.
For my baby I had the pram and/or carrier to keep him distracted prior to surgery.
Have their favourite toys, comfort toys and other non-food distractions.
Have a yummy treat available for when they wake up.
When an overnight stay is needed Starship has some great tips: https://www.starship.org.nz/preparing-for-your-hospital-stay
Written by Jenny Overwater, National Coordinator for © Crying Over Spilt Milk Gastric Reflux Support Network New Zealand for Parents of Infants and Children Charitable Trust February 2021.
Page may be printed or reproduced for personal use of families, as long as copyright and Crying Over Spilt Milk's URL are included. It may not be copied to other websites or publications without permission and acknowledgement.