…there needs to be more awareness of infant gastric reflux!
Hi, my name is Bridget Anderson. My son Dartanyan had severe gastro-oesophageal reflux disease (GORD). At six-months-old it got pretty bad; he got to the stage where he couldn't keep all his food and milk down. As a first time mum, this was quite stressful. It then lead to lung infections and we were at the doctor every week, and then approximately monthly hospital admissions for up to five days at a time with high temperatures over a period of about four months.
We were then referred to an excellent surgeon who did the wrap surgery on Dartanyan. This was quite a stressful time, having a young boy go for surgery, but he recovered quickly and the operation was a success.
I do think there needs to be more awareness of infant gastric reflux. As a mum, I did not know much about gastric reflux and would have loved to know that there was a support group out there at the time. I would love to help raise awareness of gastric reflux, and that there is support out there for other mums and dads going through the same situation.
Tēnā koutou, my name is Roslyn Ballantyne, National Coordinator of the Gastric Reflux Support Network NZ and mother to three beautiful girls well beyond the baby stage. Thankfully, most infants who have gastric reflux don't have GORD and don't need surgery or other medical treatment, but we all wish/pray for and expect the perfect baby when pregnant, and are devastated, stressed, exhausted and maybe even depressed when our precious bundle has gastric reflux and spills constantly. The constant mess, cleaning, laundry etc. can lead to tiredness and isolation and others don't necessarily understand why we aren't coping with something that is so normal that it affects more than 50% of babies.
If your infant or child has gastric reflux, please Join Gastric Reflux Support Network NZ
We look forward to meeting you.
Roslyn and Bridget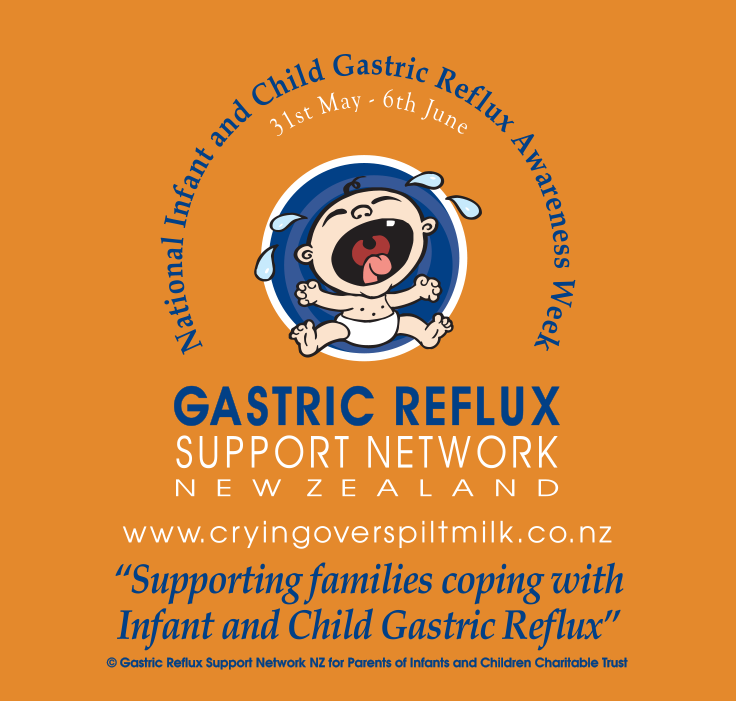 © Bridget Anderson (Member), Roslyn Ballantyne, RN (National Coordinator 2013 – 2020) and Crying Over Spilt Milk Gastric Reflux Support Network New Zealand for Parents of Infants and Children Charitable Trust June 2014.
This story was written for the front page of our website for National Infant Gastric Reflux Awareness Week 2014.