National Infant and Child Gastric Reflux Awareness Week 31st May to 6th June
The Gastric Reflux Support Network NZ promotes National Infant and Child Gastric Reflux Awareness Week each year from 31st May to 6th June.
We recognise that Gastric Reflux or spilling in Infants is considered normal.  Gastro-Oesophageal Reflux Disease (GORD) occurs when Gastric Reflux causes some sort of complication which may include feeding difficulties, growth issues, respiratory issues or pain.
This year our Awareness Week theme is Community, hapori. We want to engage families via our online competitions to consider who their community is, how their culture influences there parenting style and what difficulties they face within their community, allowing us to raise awareness of how important it is, especially for parents of high medical needs infants and children, to find their community whilst celebrating the cultural diversity of our communities.
We will continue to educate the public about this disease via informative FB posts which can be shared and by showcasing our members' stories, allowing their voices to be heard.
We will distribute our Awareness Week posters to DHB's, GP's, Plunket, and other health professionals, and bookmarks to selected libraries, to allow our services to reach those who most need it. Please contact us for posters or bookmarks.
Who are we? And, what do we provide?
Gastric Reflux Support Network NZ provides a supportive online forum where safe information and support can be shared. We have a number of private Face Book groups that allow our families to grow connections and support networks with others on similar journeys both within their region and Nationally. We also have individual groups for Laryngomalacia, Eosinophilic Gastrointestinal Disorders, those with feeding issues and our 13yr+ group.
We hold on line coffee groups and help facilitate face to face meetups which allow our families to connect with others within their community.
Over recent months we have started to distribute care packages to members during hospital stays. These provide the infants and children with small toys and activities to help keep them entertained during their stay as well as Kiwi Parent magazine, featuring a reflux article we contributed to, and, a bar of chocolate for the caregiver. The child also receives a "Reflux Super Star" certificate, acknowledging their strength and resilience on this part of their journey.
We offer phone support on our 0800 number which allows families to be heard and understood while being taught tips to manage their child's condition and their own emotional wellbeing. We are also contactable via our website and Facebook Page making us accessible to all areas of your community.
Our Website www.cryingoverspiltmilk.co.nz, which is HONcode certified endeavours to provide safe and up to date information to our families and greater community on Gastric Reflux and its associated conditions, as well as management techniques.  We welcome contributions from health professionals to keep this up to date and improve this.
We offer free membership to families and provide ongoing support with no financial obligation allowing our service to be accessed by all.
We kindly ask you follow these guidelines while promoting National Infant and Child Gastric Reflux Awareness Week https://www.cryingoverspiltmilk.co.nz/guidelines-for-promoting-national-infant-and-child-gastric-reflux-awareness-week/.
Please see our Facebook page for posts that can be shared: https://www.facebook.com/NationalInfantAndChildGastricRefluxAwarenessWeek/
Jenny Overwater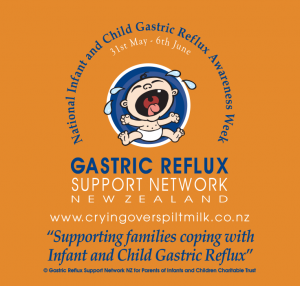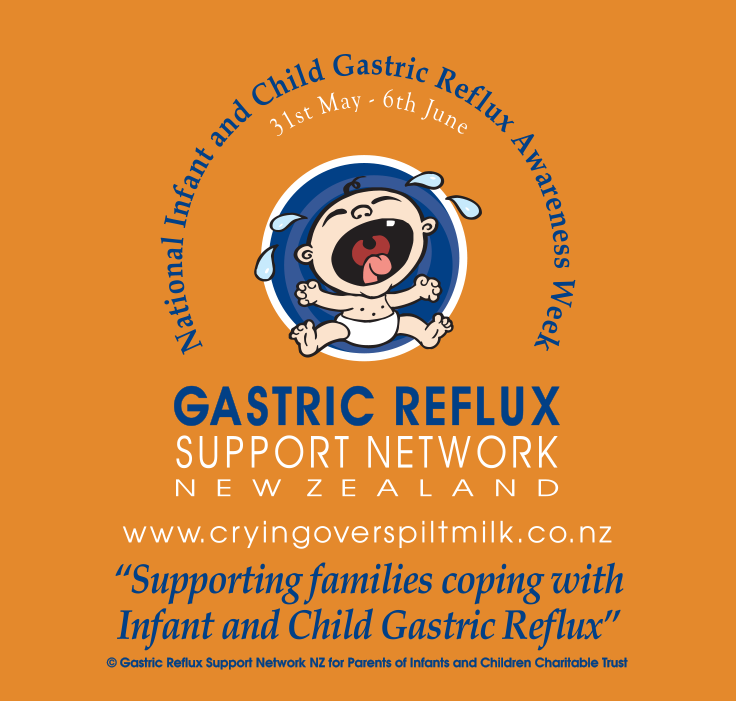 National Coordinator
Phone/Text 022 585 5935
Phone: 0800 380 517  
Tautoko, Matauranga me te Whakamana i te whānau me ngā tamariki
Support, Education and Empowerment for families and their children
Last Updated on May 23, 2021 by Crying Over Spilt Milk