From all the contact that I have had with G.R.A.S.P. parents over the past two years, as well as the increasing amount of information that has been obtained from the return of your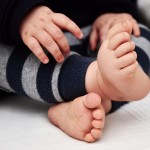 questionnaires, it seems that more and more GRASP members who originally joined because they had babies with reflux now have toddlers with reflux and all the extra problems that this brings.
Are you one of this elite group?*! If you are you're not alone. Although, we are still told that 90% of children grow out of reflux by the time they are one year old. So are these figures wrong? Is it possible that as recognition of reflux increases, recognition of those children who go on to have reflux beyond one year of age is also increasing?
I know that in my own experience it was very difficult once my son turned one to get health professionals to listen. Nobody wanted to know. Babies grew out of reflux by one year of age, the continuing problems must all have been 'behavioural'. After 12 months of struggling for recognition, Eden (then two) was finally proven to still have reflux.
Anyway, back to the reason I was prompted to write this. Coping with a toddler with reflux – how do you? It's difficult isn't it? And you get so much conflicting advice from everywhere. And toddlers can really put on a performance and show you up as the horrible mean parent that people always thought you were. Recently on a shopping trip my little angel decided to throw a tantrum (we all know that most toddlers with reflux can't sit still long enough to race down one supermarket aisle). Anyway, I was just trying to loosen his grip from a trigger-bottle of weed-killer that he had pulled off some shelf when a lady passing in the aisle JUST happened to pass a comment to another shopper that she wondered 'what that woman was doing to the poor child'. That was just the icing on the cake for me! I felt like running after her and suggesting that she take him home and try living with him! Another common phrase seems to be 'you're just not hard enough on him'- I'd like to know just what 'hard enough' is!
From the information that I've been able to collect both from all of you out there and from personal experience, the typical refluxing toddler may have some or all of these problems:
# Irritable, clingy, cries lots
# Sleeps poorly, wakes often
# Poor eater, or refuses to drink/eat
# Becomes worse if given acidic, spicy or fizzy food
# A virus, 'stomach bug' or teething may trigger an attack of reflux
# Seems to have boundless supplies of energy, can't concentrate, can't sit still
# Has difficulty interacting with other adults and/or children
# Is nervy, highly-strung, stressed or tense.
# May express their feelings by biting, head banging, and other forms of aggressive behaviour
And there seem to be two common philosophies on how to deal with all this:
1. The lets get tough method. Ignoring crying, 'tune out', not responding to night waking, offering rewards for good behaviour such as eating, etc. etc.
This method can work for some children. If you decide to try this method – get some support! Remember though, if reflux is still causing pain, consult your doctor about alternative treatments to deal with the reflux before you try this one.
2. Other parents with refluxing children have tried method no. 1 and failed, or use other methods of dealing with these problems. Here are their suggestions!
# On a bad day take time to do something that you wouldn't usually do e.g. a trip to the park, perhaps somewhere with lots of space and few people.
# Avoiding prolonged periods in confined spaces with too many people.
# Investigate opportunities for the child to interact with other children/adults with and without you there.
# Many of these children respond well to relaxing activities such as swimming.
# Some mums found it helped to continue breastfeeding / others wished they'd given it up!!
# Encouraging finger food but at the same time not pushing the eating issue can help.
# Offering small amounts of food often.
# Going for long drives in the car or alternatively, reducing travel.
# Keeping a calm relaxed environment or alternatively keeping to a strict routine-
# Taking your child as he/she is.
From my own experience, after six weeks of a strict sleep program and using 'time out' to deal with the irritability, offering expensive bribes for eating etc. we gave up. The screaming was definitely getting worse not better! It seemed to me that most of Eden's problem was that he was too tense to sleep and eat, too nervy with other people, and too stressed to sit still for five minutes (all as a result of years of reflux pain I guess, who wouldn't be highly strung?!) So turning away from the 'lets get tough' method advocated by our health professionals, we tried a method of our own. We have found through trial and error that the things that Eden responds well to are: massage with calming essential oils like Chamomile and Neroli before bed and when irritable (he now sleeps all night), long hot baths (he finds it more relaxing to have a bath with me than with his five year old brother), distraction on bad days e.g. trips to park, swimming etc, and for us to stop focusing on what he didn't eat and concentrate on what he did! (We've found it best not to make a fuss when he does eat as it puts him off). We believe that Eden's medication is now controlling his reflux adequately and that now he is very rarely in reflux pain, but the years of pain have made him a very stressed little individual. For Eden a sleep program and 'time-out' seemed only to make him worse as the more he screamed the more stressed he got and then the more he screamed (a real snowball effect).
As always, different methods work with different children. Contact with another parent who has a toddler with reflux can also help; share ideas! Above all realise that you know your child better than anyone else and because of this you may also find that you already hold the key to the problem. Don't be afraid to reach out for help though! I'm not pretending the path is easy, sometimes it takes time and patience, sometimes it takes self-control, always it takes trial and error. Don't expect too much of yourself, whatever method you try. We have the hardest job in the entire world as parents, even harder as parents of refluxers. Make sure you get some time out for yourselves. You're all doing such great jobs – you deserve it!
© Rochelle Wilson (GRASP National Coordinator 1995 – 2001). Used with permission
Page may be printed or reproduced for personal use of families, as long as copyright and Crying Over Spilt Milk's url are included. It may not be copied to other websites or publications without permission and acknowledgement. This information (unedited) was also provided (by GRASP) to health professionals in New Zealand to use " to continue to support and inform families with babies/children with Gastro-oesophageal Reflux."
Last Updated on May 29, 2016 by Crying Over Spilt Milk