My first child was a dream, eat sleep play.
My second baby was a nightmare! Screaming the moment he was born.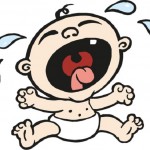 Sleeping upright on my chest for ten weeks!
We couldn't find an answer, losing our minds! Five doctors later, high doses of medication for gastro-oesophageal reflux disease and specialised formula we had a baby we could cope with, only just.
He spilled until one and a half, was on formula and medication until three years and is now a beautiful amazing boy at 8 years.
It was worth every minute of personal pain and we risked it again by having son number 3 who was a dream like the first.
Keep your head high, things will be okay, struggle through but never give up!! Your baby will grow into a beautiful human being.
View the original #‎NationalInfantandChildGastricRefluxAwarenessWeek‬ 2015 Story 4
© Melissa, GRSNNZ Member and Crying Over Spilt Milk Gastric Reflux Support Network New Zealand for Parents of Infants and Children Charitable Trust June 2015
Last Updated on May 20, 2021 by Crying Over Spilt Milk