From all the contact that I have had with G.R.A.S.P. parents over the past two years, as well as the increasing amount of information that has been obtained from the return of your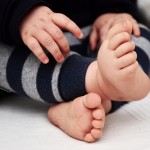 questionnaires, it seems that more and more GRASP members who originally joined because they had babies with reflux now have toddlers with reflux and all the extra problems that this brings.
Are you one of this elite group?*! If you are you're not alone. Although, we are still told that 90% of children grow out of reflux by the time they are one year old. So are these figures wrong? Is it possible that as recognition of reflux increases, recognition of those children who go on to have reflux beyond one year of age is also increasing?
I know that in my own experience it was very difficult once my son turned one to get health professionals to listen. Nobody wanted to know. Babies grew out of reflux by one year of age, the continuing problems must all have been 'behavioural'. After 12 months of struggling for recognition, Eden (then two) was finally proven to still have reflux.
Anyway, back to the reason I was prompted to write this. Coping with a toddler with reflux – how do you? It's difficult isn't it? And you get so much conflicting advice from everywhere. And toddlers can really put on a performance and show you up as the horrible mean parent that people always thought you were. Recently on a shopping trip my little angel decided to throw a tantrum (we all know that most toddlers with reflux can't sit still long enough to race down one supermarket aisle). Anyway, I was just trying to loosen his grip from a trigger-bottle of weed-killer that he had pulled off some shelf when a lady passing in the aisle JUST happened to pass a comment to another shopper that she wondered 'what that woman was doing to the poor child'. That was just the icing on the cake for me! I felt like running after her and suggesting that she take him home and try living with him! Another common phrase seems to be 'you're just not hard enough on him'- I'd like to know just what 'hard enough' is!
From the information that I've been able to collect both from all of you out there and from personal experience, the typical refluxing toddler may have some or all of these problems:
# Irritable, clingy, cries lots
# Sleeps poorly, wakes often
# Poor eater, or refuses to drink/eat
# Becomes worse if given acidic, spicy or fizzy food
# A virus, 'stomach bug' or teething may trigger an attack of reflux
# Seems to have boundless supplies of energy, can't concentrate, can't sit still
# Has difficulty interacting with other adults and/or children
# Is nervy, highly-strung, stressed or tense.
# May express their feelings by biting, head banging, and other forms of aggressive behaviour
And there seem to be two common philosophies on how to deal with all this:
1. The lets get tough method. Ignoring crying, 'tune out', not responding to night waking, offering rewards for good behaviour such as eating, etc. etc.
This method can work for some children. If you decide to try this method – get some support! Remember though, if reflux is still causing pain, consult your doctor about alternative treatments to deal with the reflux before you try this one.
2. Other parents with refluxing children have tried method no. 1 and failed, or use other methods of dealing with these problems. Here are their suggestions!
# On a bad day take time to do something that you wouldn't usually do e.g. a trip to the park, perhaps somewhere with lots of space and few people.
# Avoiding prolonged periods in confined spaces with too many people.
# Investigate opportunities for the child to interact with other children/adults with and without you there.
# Many of these children respond well to relaxing activities such as swimming.
# Some mums found it helped to continue breastfeeding / others wished they'd given it up!!
# Encouraging finger food but at the same time not pushing the eating issue can help.
# Offering small amounts of food often.
# Going for long drives in the car or alternatively, reducing travel.
# Keeping a calm relaxed environment or alternatively keeping to a strict routine-
# Taking your child as he/she is.
From my own experience, after six weeks of a strict sleep program and using 'time out' to deal with the irritability, offering expensive bribes for eating etc. we gave up. The screaming was definitely getting worse not better! It seemed to me that most of Eden's problem was that he was too tense to sleep and eat, too nervy with other people, and too stressed to sit still for five minutes (all as a result of years of reflux pain I guess, who wouldn't be highly strung?!) So turning away from the 'lets get tough' method advocated by our health professionals, we tried a method of our own. We have found through trial and error that the things that Eden responds well to are: massage with calming essential oils like Chamomile and Neroli before bed and when irritable (he now sleeps all night), long hot baths (he finds it more relaxing to have a bath with me than with his five year old brother), distraction on bad days e.g. trips to park, swimming etc, and for us to stop focusing on what he didn't eat and concentrate on what he did! (We've found it best not to make a fuss when he does eat as it puts him off). We believe that Eden's medication is now controlling his reflux adequately and that now he is very rarely in reflux pain, but the years of pain have made him a very stressed little individual. For Eden a sleep program and 'time-out' seemed only to make him worse as the more he screamed the more stressed he got and then the more he screamed (a real snowball effect).
As always, different methods work with different children. Contact with another parent who has a toddler with reflux can also help; share ideas! Above all realise that you know your child better than anyone else and because of this you may also find that you already hold the key to the problem. Don't be afraid to reach out for help though! I'm not pretending the path is easy, sometimes it takes time and patience, sometimes it takes self-control, always it takes trial and error. Don't expect too much of yourself, whatever method you try. We have the hardest job in the entire world as parents, even harder as parents of refluxers. Make sure you get some time out for yourselves. You're all doing such great jobs – you deserve it!
© Rochelle Wilson (GRASP National Coordinator 1995 – 2001). Used with permission
Page may be printed or reproduced for personal use of families, as long as copyright and Crying Over Spilt Milk's url are included. It may not be copied to other websites or publications without permission and acknowledgement. This information (unedited) was also provided (by GRASP) to health professionals in New Zealand to use " to continue to support and inform families with babies/children with Gastro-oesophageal Reflux."
This is GRSNNZ's new additional website. It has it's own Facebook Page attached to it. We were aware that there was a group of parents who were not getting the support that they needed as although they were stressed by their situation, their babies were not deemed to have gastric reflux. Please let anyone you know who might benefit from support with others about the website and associated social media.

Welcome to "Spilt Milk"! The aim of this website is to provide information and support for parents or caregivers who are stressed by coping with their infant who spills and/or is irritable. The hope would be that by participating with others with similar challenges and experiences, that a...

Hi Roz and team just to let you know we are re branding from Mothers Matter to PND Canterbury and the new website went live last week http://www.pndcanterbury.co.nz. There is a page on support for Canterbury. If there are any Mums/Dads with any questions please get in touch supportgroup@pndcanterbury.co.nz or call me on 021 131 4352 Sonya. :) I to had a reflux baby through to about 3 years so I really do get it.

Postnatal Depression Family/Whanau NZ Trust. Our mission: To support the wellness of mothers and their familes who are suffering from postnatal depression (PND) and other related mental illnesses.

Jess McBrearty :)

My daughter was discharged from hospital last Monday, but is still very unwell. I processed all the membership forms last week (except for one that has since come in) and have finally come up for air.
I've just turned on the phone and cleared the messages, but I only have one. I know there was at least one other from 27 February, but the phone hasn't saved it. Please phone back! I would love to talk to you.

The GRSNNZ 0800 number and cell phone is currently not being answered or messages cleared. I haven't had a chance to change the message on it either.
I know there is a message there from last week I haven't cleared too.
My daughter has been in hospital since Monday and we had several visits last week. I'll attend to the messages hopefully next week.

My 4 week old baby is on Ompreazole granules and we are going to start weaning him off in a few weeks to see how we go. I am considering starting him on probiotics to help this process. Can I give probiotics to a 4 week old or do I take them and he gets the benefit through my breastmilk? If I give it to him how do I administer it and what brand is best?

Alisha is now 3 1/2 months old, she is around 5 kg. We have had heaps of trouble with her. Put her on various medications and changes in my diet, then onto Neocate Formula with Losec Capsules. She has pretty much improved 100% from where she was a couple of months ago.

My question is, what quantity of formula does your baby drink and roughly how long inbetween? I've been trying to give her three hours inbetween each feeding which she can manage totally fine. But when food is offered she hardly drinks much in a sitting. I can usually get 100ml of formula into her over an hour, sometimes takes me longer.

Is this normal for a reflux baby??

Is infant gaviscon at all effective for 2.5 yesr old? my son reacts to ranitadine and omeprozole but has had a reflux flare up which is now resulting in vomiting after lying down in bed. He's even coughing and gaging on water during the day probably from the irritation in his throat etc. I'm having to wait quite some time after dinner to give him rice milk and again before attempting bed. It's pushing bedtime out too far with him not napping. Any suggestions? Can't pinpoint anything dietry wise that may be causing it.

Hi everyone. I'm after a bit of advice, my 20month old has recently commenced on liquid iron supplement (after we were told his iron levels are low from blood tests) but we've found its giving him a really sore tummy. Have tried halving the dose but I still have a tearful distressed little man on my hands. Does anyone have any ideas? Or can recommend something else.

Hi there, I'm wondering if someone could please advise me. I have been dairy free for 3 weeks today and introduced some back in today; just butter on one piece of toast and a splash of cows milk in 2 hot drinks. My daughter's been crying and not sleeping most of the day unless held. I've also been block feeding to try to prevent her choking etc on my fast flow, however Plunket advised I may like to rethink that now she's 8 weeks old so my supply doesn't diminish. She's a frequent feeder and I've managed to push her out to 2 1/2 hourly feeds over the last few weeks (on Plunket and Dr advice as they said her always feeding would make the reflux worse). She had been quite a bit better over the last week. Tonight I offered her the other breast at her feed as well, instead of the same one as usual and she had a good feed, so obviously needed it. But my goodness, the reflux has been really bad afterwards with lots of gagging and choking and pained crying etc etc (she's not much of a puker). I don't know if this is from having both breasts at the one feed (surely not) or she's super sensitive to the dairy? I'm wondering how long it will now take to see if there's improvement now that I've quit the dairy again? Please tell me it won't be a whole other 3 weeks again!! As I said, it was only a small amount reintroduced today.

Paging Rebecca who left a message on the Gastric Reflux Support Network NZ Support Answer Phone on Monday!
Sorry, for some reason I can't return your call. Can you either text us again on 022 585 5935 or send us an email through the website (which is now working) - http://www.cryingoverspiltmilk.co.nz/contact/

Contact Gastric Reflux Support Network New Zealand for Parents of Infants and Children Charitable Trust Phone/Text 022 585 5935 Phone 0800 380 517 * indicates required field Name:* Email:* Subject:* Message:* CAPTCHA Code:* Request Skype Call/Conversation using the form above. Page last updated…

Just trying to access the website about allowances in nz.. nothing will load?

In all the reading I've done about reflux babies it seems common that they don't settle to sleep to well
During the day but will at night? Why is that?

I don't know if any of you have noticed, but as the website is having a lot of updates at the moment, I have started adding a blog about it to the website. The posts appear on the home page, under the Facebook Preview. Roslyn, National Coordinator.

For infant and child gastric reflux support in New Zealand: Phone/Text 022 585 5935 Phone 0800 380 517 Contact GRSNNZ via email form Join Gastric Reflux Support Network NZ for Parents of Infants and Children Charitable Trust for access to our Newsletters and Private Local and National Support Networ…

Interesting article on dreamfeeds:

Will 'dream feeds' work for your baby? Dorothy Waide shares her insights on this late night option.

does a thickener help for Elecare formula? It seems to be so thin and my little granddaughter is spilling a lot with this formula.Would welcome your feedback thanks

Christchurch people - there is a new post from someone needing help finding Karicare Aptamil Food Thickener. If you know where to find it, can you please reply on their post?
Thank you!

Does anyone in CHCH know where to find the formula thickener for Elecare formula?? My wee one has just been put onto Elecare and I am finding it needs to be a bit thicker as she is bringing up a lot just like the breast milk. Not all pharmacies sell it

After some advice, I have a 10 week old with possible silent reflux ( just started gaviscon) we are wanting to progress to help him achieve self settling. Does anyone have any methods that worked? Absolutely no comfort in patting and shushing... Or am I asking too much from my little man that finds a lot of comfort in being rocked to sleep?

Hi all, Just wondering if someone could confirm for me that going dairy free means you can still have non cows milk products like sheep or goat products? I read the spilt milk site and seems to be a cows milk protein issues, not other types of animal products? I just ate sheeps feta then second guessed if it's OK.

My 16 month old just saw an allergist today and he told me it sounded like he had reflux. He had it as an infant but around 9 months he stopped needing meds and was fine, but now this winter he has stayed sick! So I'm really trying hard to wrap my head around this... I feel like my baby has been sick for months (stuffy, sneezing, coughing, wheezing, fever.. the list goes on and on) and it's just reflux! I mean if that's the case I guess I'm relieved because that seems like a simple fix. I just feel like he's really been suffering. His pedi was thinking he had asthma and sinus infections. The allergist did swab his nose to see if anything comes back on it but for now he is just taking nexxium(sp?) and a nasal spray.

Ignore my previous message (If you saw it), http://www.cryingoverspiltmilk.co.nz is back!

For infant and child gastric reflux support in New Zealand: Phone/Text 022 585 5935 Phone 0800 380 517 Contact GRSNNZ via email form Join Gastric Reflux Support Network NZ for Parents of Infants and Children Charitable Trust for access to our Newsletters and Private Local and National Suppor…

I asked for a script for infant gaviscon and was given Acidex. Whats the difference?

Hoping for a bit of help/more advice. My now 8 week old baby has what we believe to be silent reflux, no one has actually diagnosed her with it, but have been given meds to help. She definitely regurgitates milk, and sometimes projectile vomits (she has only started doing this recently). I am getting so lost of what to do next, we have another appointment with the GP on Thursday, but in the mean time would love any advice on what I can do to help her.

We started out on Infant Gaviscon, which didn't help much at all. Then onto Ranitidine, which didn't help either. We got prescribed Losec by my GP to use with gaviscon. Which seemed to help for two weeks, but now she is back to being so unsettled and unhappy. From birth she could only ever drink a small amount before she got really uncomfortable and started screaming, I started expressing to get an idea of what she is really drinking, which turned out to be bugger all, this was why i was feeding her 20 odd ml every 1/2 hr to an hour. I'm doing everything I can to help her, have got the bassinet head raised, burp after what seems to be every mouthful! I wear her in my wrap a fair bit during the day for some of her naps.

I took her to the osteopath last week, and her said she was very sore and had a very tight diaphragm. Two nights later she slept 6 hours! But the next night she was back to a couple of hours at a time. I have another appointment on Thursday.

As I have a 20 1/2 month old toddler and, expressing got too much as I could never find the time to do it, so now have her on Karicare Formula, which i'm not 100% sure if this is upsetting her stomach aswell. She was induced at 38 weeks as they were concerned about her growth, she was 6lb 3 oz at birth.

What would be the best formula to have her on? She is still currently on losec and gaviscon. AND how can I ease the screaming after every feed? I'm really starting to stress alot about it and find myself getting pretty emotional.

Thanks and sorry for the long story!
Emma

Hi everyone, my daughter had severe gerd up until about 9 months and was treated with losec and gaviscon and eurthymician (sp). Four about 3 months she was really good, not needing any meds at all so we weened her off them. She has been med free for about 6 months, but the past two months we are back to screaming and crying every hour each night ( was previously a good night sleeper!) very unsettled etc, but no vomit . My question is can reflux suddenly come back ?