(My thoughts and experience about breastfeeding a baby with gastric reflux.)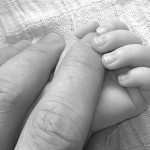 Gem was my third child, but the first with diagnosed treated severe GORD.  I breastfed my first two children until age 14 months, and because of the risk of allergies in my family didn't give them food that contained cow's milk until they were one years old.
With Gem, breastfeeding was initially easy. She fed well, gained weight and was contented. By three weeks of age she started screaming after feeds and arching her back. She would have been happy to feed again, but this would have only made her pain worse, so I would persist with her screaming for at least an hour.
As time went by breastfeeding got harder rather than easier. However, even with the difficulties, I found there were many advantages to breastfeeding. If you are struggling, you are not alone.  Breastfeeding is not always easy.
These are some of the things that we experienced:
Choking while breastfeeding resulting in her pulling off the breast and needing to be held upright so she could clear her airway.  My milk continued to flow everywhere because I was too busy dealing with the choking!

Screaming while feeding.

Having to take frequent breaks from breastfeeding during most feeds.

Not being able to relax and watch television while breastfeeding, let alone hear it!

Not being able to breastfeed and do anything else at the same time e.g. read.

Not being able to breastfeed anywhere I wanted, like I had with the other two, due to breastfeeding a wriggly uncomfortable baby not being discreet or quiet.

Arching her back, making breastfeeding most uncomfortable.

Taking all products with cow's milk out of my diet and after 10 days of this having a totally different child!

Dealing with other people's need to feed me when we visited, and me not being able to eat it because I was on a dairy free diet.  This was more of a problem for them than me.

Dealing with other's comments that "a little cow's milk won't hurt", when I knew from experience it did.

The resulting nipple confusion because we had used bottles to give the Infant Gaviscon.

Not being able to feed in bed at night, due to her need to be upright, the likelihood of the bed being soaked, and the noise after or during a feed.

Wondering what had upset her that I had eaten.

At her worst when I had tried cow's milk she was only able to breastfeed in the morning, and the rest of the day refused to feed for more than a minute at a time, and sat on the floor and grizzled due to hunger. At this time I had to supplement her with formula recommended by our paediatrician after a day or she would have dehydrated, and had to continue this until the cow's milk was out of my breast milk (for us this would take 10 days).

It took seven days of me having dairy before she showed a reaction, and this was confusing. Somebody from GRASP (probably Rochelle) explained to me that this was possible/likely because cow's milk seems to have an accumulative effect in breast milk.

Feeling guilty because I had mostly weaned her onto "safe" formula at 11 months but tried to retain night feeds thinking that the little dairy she would be getting in my milk wouldn't be a problem, but not knowing if it was when she became unsettled.

Needing to feed in a quiet room without distractions.
So after reading that list I guess you are wondering if there are any positives. There are and these are the one's I can still think of three years down the track:
Breast milk is easier to digest than formula, and therefore the stomach is emptied quicker and results in less reflux occuring.

Breastfeeding is cheap, especially when half of it gets wasted.

Breast milk contains antibodies and therefore helps prevent babies becoming unwell. With a baby with reflux this is doubly important as any illness can cause reflux to worsen.

Breastfeeding in the middle of the night in the lounge during winter with the fire going, the lights dimmed and the radio on quietly. If you have the right attitude this can be a special time.

Spilled breast milk smells less than formula.

Breast milk is especially designed for human infants, and has everything they need.

Breast milk requires no preparation. Preparing formula and getting it the right temperature while a baby screams isn't much fun.

I felt no guilt in buying special things for me to eat while breastfeeding and on a dairy free diet. Although soy ice creams, soy milk, "safe cheese" and many other products are expensive I would have spent far more on formula if bottle-feeding.

A dairy free diet is a good way to loose that excess pregnancy weight – I should go on one again.

Breastfeeding creates a special bond between infant and mother.

Breastfeeding means you have to hold and be close to an infant that may not seem particularly lovable due to their screaming and/or messiness.

Breastfeeding can be a great comforter to the distressed infant.

I found expressing milk for the times I wasn't around much easier than with the other two children, and I think this was due to an extra supply I had, to cope with the extra demand at times.
Some other things I have learnt about breastfeeding an infant and particularly one with reflux that are important include the following:
It may be best to only feed on one side each feed, giving the baby less breast milk in volume and more hind milk.

It may be best to not have feeds too close together as this can increase pain. One recommendation is three hours from the beginning of one feed to the beginning of the next, but you need to be guided by your baby's growth and your health professional's advice – and of course the volume they have at each feed.

Some parents think (or are advised to by health professionals) that they should stop breastfeeding from the breast, and feed expressed milk in a bottle so that they can thicken it with cereal. This can lead to a decrease in milk supply and an exhausted mother who not only has to prepare bottles and feed the baby, but express the milk also. This doesn't leave much other time in a day. Breast milk is just as effectively thickened by feeding a little cereal (preferably rice – check the ingredients as some brands of rice cereals, contains milk products) from a spoon, before, during or after a breastfeed. The cereal can be mixed until smooth and runny with some cooled boiled water, expressed breast milk or formula. In some countries parents are using oatmeal to thicken feeds. This is not recommended in New Zealand, as it contains gluten and may contribute to an intolerance/allergy later in life if given at a young age. Intolerance to gluten may also increase reflux pain.  Discuss thickeners with your Health Professional (doctor, Well Child Provider or dietician).

About one third of all babies with reflux will have a cow's milk allergy or intolerance, and this can affect them through their mother's breast milk.

Reflux occurs roughly equally between breastfed babies and bottle-fed babies. Changing from breast to bottle will not generally improve the problem.

The infant with reflux does not dislike their mother, or their mother's milk!

You don't need to wean……. however many times your relatives and friends tell you it would be best.

Look after yourself. Remember that you are important. If you are not happy and healthy, your family will not be happy either. If breastfeeding really is making you miserable don't feel guilty about giving up, but do think about it long and hard first.
LLL also have a booklet entitled "Breastfeeding the baby with reflux"(L015 – $6). Available in New Zealand by contacting mailto:lllnz@clear.net.nz
Written by Roslyn Ballantyne (RN), National Coordinator for © Crying Over Spilt Milk Gastric Reflux Support Network New Zealand for Parents of Infants and Children Charitable Trust 14/11/2003. Edited March 2015.
This page may be printed for the personal use of families, as long as the copyright and source (i.e. Crying Over Spilt Milk's URL) is also printed. It may not be copied to other websites or publications without permission.
Hi all...not sure if I am allowed to do this or not, but thought this would be the best place to ask. I've had a few people tell me that I should see a cranial osteopath for my 1yr son who has reflux and is also dairy intolerant. I am in Cambridge. So would like to know if anyone has had any success with this kind of treatment and any recommendations on who to see. Thanks in advance :)

Gastric Reflux Support Network NZ shared Hope For The Broken Hearted's photo.

The Bible say laughter is good medicine. God designed us to laugh because it helps our bodies. Laughter releases endorphins, which are made in the brain and spinal column. Endorphins act as analgesics (diminishing the perception of pain) and as sedatives that calm emotions. If you're feeling sad, stressed, or anxious, watch a comedy for a little while... your brain will feel better and you will feel your spirit lift for awhile.

The Bible say laughter is good medicine. God designed us to laugh because it helps our bodies. Laughter releases endorphins, which are made in the brain and spinal column. Endorphins act as analgesics (diminishing the perception of pain) and as sedatives that calm emotions. If you're feeling sad, stressed, or anxious, watch a comedy for a little while... your brain will feel better and you will feel your spirit lift for awhile.

Gastric Reflux Support Network NZ shared Judy Arnold - Infant and child Consultant's photo.

It is that time again. Friday afternoon, 1.30-2.30 Spread the word.

It is that time again. Friday afternoon, 1.30-2.30 Spread the word.

Gastric Reflux Support Network NZ shared Inspiring and Positive Quotes's photo.

I had to share this one!

Inspiring and Positive Quotes <3

Gastric Reflux Support Network NZ shared Inspiring and Positive Quotes's photo.

Inspiring and Positive Quotes <3

Gastric Reflux Support Network NZ shared a page.

Moderated by GRSNNZ staff including Roslyn Ballantyne (RN) http://not.cryingoverspiltmilk.co.nz/about-spilt-milk/guidelines/ No advertising please!

This is GRSNNZ's new additional website. It has it's own Facebook Page attached to it. We were aware that there was a group of parents who were not getting the support that they needed as although they were stressed by their situation, their babies were not deemed to have gastric reflux. Please let anyone you know who might benefit from support with others about the website and associated social media.

Welcome to "Spilt Milk"! The aim of this website is to provide information and support for parents or caregivers who are stressed by coping with their infant who spills and/or is irritable. The hope would be that by participating with others with similar challenges and experiences, that a...

Hi Roz and team just to let you know we are re branding from Mothers Matter to PND Canterbury and the new website went live last week http://www.pndcanterbury.co.nz. There is a page on support for Canterbury. If there are any Mums/Dads with any questions please get in touch supportgroup@pndcanterbury.co.nz or call me on 021 131 4352 Sonya. :) I to had a reflux baby through to about 3 years so I really do get it.

Postnatal Depression Family/Whanau NZ Trust. Our mission: To support the wellness of mothers and their familes who are suffering from postnatal depression (PND) and other related mental illnesses.

Jess McBrearty :)

My daughter was discharged from hospital last Monday, but is still very unwell. I processed all the membership forms last week (except for one that has since come in) and have finally come up for air.
I've just turned on the phone and cleared the messages, but I only have one. I know there was at least one other from 27 February, but the phone hasn't saved it. Please phone back! I would love to talk to you.

The GRSNNZ 0800 number and cell phone is currently not being answered or messages cleared. I haven't had a chance to change the message on it either.
I know there is a message there from last week I haven't cleared too.
My daughter has been in hospital since Monday and we had several visits last week. I'll attend to the messages hopefully next week.

My 4 week old baby is on Ompreazole granules and we are going to start weaning him off in a few weeks to see how we go. I am considering starting him on probiotics to help this process. Can I give probiotics to a 4 week old or do I take them and he gets the benefit through my breastmilk? If I give it to him how do I administer it and what brand is best?

Alisha is now 3 1/2 months old, she is around 5 kg. We have had heaps of trouble with her. Put her on various medications and changes in my diet, then onto Neocate Formula with Losec Capsules. She has pretty much improved 100% from where she was a couple of months ago.

My question is, what quantity of formula does your baby drink and roughly how long inbetween? I've been trying to give her three hours inbetween each feeding which she can manage totally fine. But when food is offered she hardly drinks much in a sitting. I can usually get 100ml of formula into her over an hour, sometimes takes me longer.

Is this normal for a reflux baby??

Gastric Reflux Support Network NZ shared Positive Parenting: Toddlers and Beyond's photo.

Is infant gaviscon at all effective for 2.5 yesr old? my son reacts to ranitadine and omeprozole but has had a reflux flare up which is now resulting in vomiting after lying down in bed. He's even coughing and gaging on water during the day probably from the irritation in his throat etc. I'm having to wait quite some time after dinner to give him rice milk and again before attempting bed. It's pushing bedtime out too far with him not napping. Any suggestions? Can't pinpoint anything dietry wise that may be causing it.

Gastric Reflux Support Network NZ shared Inspiring and Positive Quotes's photo.

So true!

Inspiring and Positive Quotes <3

Hi everyone. I'm after a bit of advice, my 20month old has recently commenced on liquid iron supplement (after we were told his iron levels are low from blood tests) but we've found its giving him a really sore tummy. Have tried halving the dose but I still have a tearful distressed little man on my hands. Does anyone have any ideas? Or can recommend something else.

Hi there, I'm wondering if someone could please advise me. I have been dairy free for 3 weeks today and introduced some back in today; just butter on one piece of toast and a splash of cows milk in 2 hot drinks. My daughter's been crying and not sleeping most of the day unless held. I've also been block feeding to try to prevent her choking etc on my fast flow, however Plunket advised I may like to rethink that now she's 8 weeks old so my supply doesn't diminish. She's a frequent feeder and I've managed to push her out to 2 1/2 hourly feeds over the last few weeks (on Plunket and Dr advice as they said her always feeding would make the reflux worse). She had been quite a bit better over the last week. Tonight I offered her the other breast at her feed as well, instead of the same one as usual and she had a good feed, so obviously needed it. But my goodness, the reflux has been really bad afterwards with lots of gagging and choking and pained crying etc etc (she's not much of a puker). I don't know if this is from having both breasts at the one feed (surely not) or she's super sensitive to the dairy? I'm wondering how long it will now take to see if there's improvement now that I've quit the dairy again? Please tell me it won't be a whole other 3 weeks again!! As I said, it was only a small amount reintroduced today.

Paging Rebecca who left a message on the Gastric Reflux Support Network NZ Support Answer Phone on Monday!
Sorry, for some reason I can't return your call. Can you either text us again on 022 585 5935 or send us an email through the website (which is now working) - http://www.cryingoverspiltmilk.co.nz/contact/

Contact Gastric Reflux Support Network New Zealand for Parents of Infants and Children Charitable Trust Phone/Text 022 585 5935 Phone 0800 380 517 * indicates required field Name:* Email:* Subject:* Message:* CAPTCHA Code:* Request Skype Call/Conversation using the form above. Page last updated…

Just trying to access the website about allowances in nz.. nothing will load?

In all the reading I've done about reflux babies it seems common that they don't settle to sleep to well
During the day but will at night? Why is that?

I don't know if any of you have noticed, but as the website is having a lot of updates at the moment, I have started adding a blog about it to the website. The posts appear on the home page, under the Facebook Preview. Roslyn, National Coordinator.

For infant and child gastric reflux support in New Zealand: Phone/Text 022 585 5935 Phone 0800 380 517 Contact GRSNNZ via email form Join Gastric Reflux Support Network NZ for Parents of Infants and Children Charitable Trust for access to our Newsletters and Private Local and National Support Networ…

Gastric Reflux Support Network NZ shared Inspiring and Positive Quotes's photo.

:-) :-) :-) :-) :-)

Inspiring and Positive Quotes <3

Interesting article on dreamfeeds:

Will 'dream feeds' work for your baby? Dorothy Waide shares her insights on this late night option.